As 4K televisions are becoming more common and average internet speeds are increasing, action camera manufacturers like GoPro are building high-resolution sensors to go into their cameras. Note that many manufacturers claim their action camera is capable of 4K recording but only offer frame rates of up to 10 or 15 frames per second– not nearly enough for smooth motion video. Here is a list of 4K action cameras on the market today that are capable of recording smooth video:
GoPro Hero 4 Black (Check reviews & prices
)

The GoPro Hero 4 Black is the undisputed quality champion when it comes to HD action camera quality. The GoPro Hero 4 Black shoots in 4K (3,840 x 2,160 UHD, or Ultra High Definition video) at speeds of up to 30 frames per second. Of course it also shoots in lower resolutions of 1080p (regular high definition) at higher frame rates as well (up to 120 frames per second for gorgeous slow motion). Note that if you're shooting with the GoPro Hero 4 Black in 4K you'll want to pick up some Class 10 memory cards for GoPro because slower cards will not be able to sustain high enough write speeds.
Lightdow Real 4K Action Camera (Check reviews & prices
)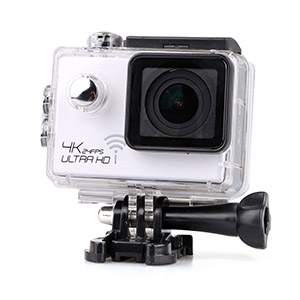 The Lightdow Real 4K action camera is just about the only other action camera we could find that shoots actual 4K video (not just 4K at 10 or 15 frames per second, which is practically the equivilant of a high resolution slide show). It isn't quite as fast as the GoPro Hero 4 Black which shoots at 30 frames per second: the Lightdow only shoots at 24fps, but that's still good enough to capture smooth video.
The Lightdow however has a couple of things the GoPro doesn't have; it comes in multiple colors, has an included accessory pack and also sports a cheaper price.
Related:
Documentary Cameras: List of DSLRs That Shoot 4K
Best Waterproof GoPro Surf Mounts & Surfing Accessories
The Best Memory Cards for GoPros
The Most Popular GoPro Accessories